Greenwich Village is a historically rich and desirable neighborhood in the downtown area of Manhattan New York City. A residential neighborhood that was the center and home to 20th Century artistic and cultural movements.  Originally a rural area in the 18th Century, Greenwich Village was outside the more developed portion of what was known as New Amsterdam or New York to the south.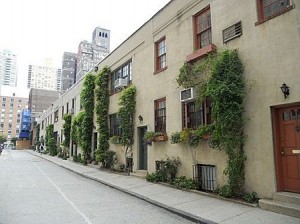 Boundaries have changed and more neighborhoods that were once part of Greenwich Village have now been designated and separated but a generally agreeable boundary designation for Greenwich Village today is that, the Northern Boundary is 14th Street, the Southern Boundary is Houston Street, to the west is 6th Avenue and to the East is Broadway or Fourth Avenue.
This area is referred to as the Central Village or Greenwich Village.  It's western neighbor, The West Village, is sometimes referred to as a part of Greenwich Village, but it has it's own neighborhood.  To the East, is NoHo, and the East Village.  Directly South of Greenwich Village is SoHo and to the North is the Union Square, Flatiron, and Chelsea neighborhoods.
Greenwich Village Real Estate for sale is some of the most desirable in all of Manhattan.  Desirable for many reasons.
Location-Literally in the middle of Downtown Manhattan. Close to restaurants, transportation, schools, and shopping.
History-There are many pre-war apartments in Greenwich Village. These buildings, some designed by Emery Roth, built by Bing and Bing are some of the most well established condominium buildings.
Investment-Greenwich Village has been one of the soundest areas for real estate investment in all of Manhattan.  Because of the desirable nature of the area pricing has been very consistent.
Character-The tree lined streets, neighborhood restaurants, public spaces such as Washington Square Park, The Gold Coast of Fifth Avenue, boutique shopping and cafes make Greenwich Village a unique neighborhood.
If you are interested in purchasing an apartment in Greenwich Village contact us today at (917) 837-8869.  If you are interested in purchasing a condominium in Greenwich Village for investment, email us here:  http://manhattannycondosforsale.com/contact/
For more reading about Greenwich Village Real Estate:
Other Helpful Manhattan New York Condo Posts: