Coronado Condominium at 155 West 70th Street New York NY 10023.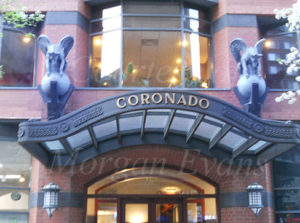 The Coronado Condominium is one of the more attractive Lincoln Center Condo buildings.  Built in 1990, this 22 story, 122 unit building is well regarded as one of the more desired upper West Side condo buildings. You will be greeted by 24 hour doorman and concierge when you walk into the Coronado Condominium NYC.
The Coronado at 155 West 70th Street is well known for the two cast stone gargoyles that flank the entrance at 70th and Broadway.  Typically this type of architecture has been a focal point for the much older pre-war co-op buildings in the area, but the architects, Schuman, Lichtenstein, Claman & Efron, decided to bring a focal point and it's been well received as one of the most memorable features to anybody who visits the building.
The Coronado Condominium has one of the better amenity packages of any Lincoln Center Condo building.  There is a 12,000 square foot amenity floor including a health club with sauna, children's playroom, billiards room, and residents lounge with built in kitchen.  These amenities are one of the main attractions in the building and propel the building as one of the best condominium buildings in the Upper West Side Condo market.
One of the great features of the Coronado Condominium at 155 West 70th Street is the mix of condominium apartments for sale in the building.  A range of studios, one bedroom, two bedroom, three and four bedroom apartments are available.
If you are looking for a Lincoln Center Condo for sale or in the hunt for an Upper West Condo for sale than the Coronado is a building you should look at.  Located in the heart of the Upper West Side at 70th and Broadway, you are walking distance to Lincoln Center, Central Park and Riverside Park, shopping at Fairway, with the convenience of transportation at your doorstep.
Call us (917)837-8869 for your own Coronado condo or other Manhattan New York condos.
other wonderful Upper West Side Condominiums:

Dorchester Tower Condominium-155 West 68th Street New York NY 10023
Three Lincoln Center Condo – 160 West 66th Street New York NY 10023
Millennium Tower-101 West 67th Street New York NY 10023
The Park Millennium-111 West 67th Street New York NY 10023
Chesterfield-186 West 80th Street New York NY 10024

Other Helpful Manhattan New York Condo Posts: