Superior Ink at 400 West 12th Street is consistently agreed upon as one of or the most desired West Village Condominiums for sale buildings.  Completed in 2009, Superior Ink was developed by one of Manhattan's most respected development companies, Related Companies, and designed by one of the most well received architects, the Robert A.M. Stern architects, Superior Ink Condominium was well received by the Manhattan real estate market.  Located in the West Village facing the Hudson River, Superior Ink is a mid sized building, but large for the West Village, at approximately 50 condominium residences and about a half dozen townhouse residences located on Bethune Street.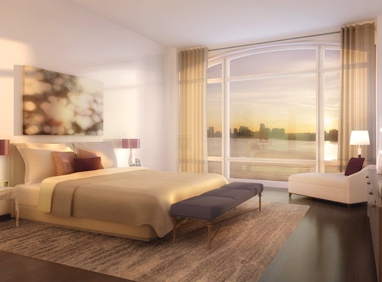 Superior Ink Condos for Sale is made up of a 17 story Tower that directly faces the Hudson River and 7 townhouse residences on Bethune Street. The 17 story tower houses the condominium residences and many of those apartments will directly face the Hudson River with unobstructed views.  Superior Ink is one of just a few Green Condominium Buildings in the West Village with the LEED Silver certification.  The LEED certification was earned through the building having both energy efficient management systems and energy efficient elements throughout the apartment.  Any buyer looking to buy a Green Condominium for sale in Manhattan would be inclined to look at Superior Ink Condominium residences.
One of the attractive features of Condos for Sale at Superior Ink is its amenity package. First starting with the full time doorman and concierge services.  The Related Company has a well deserved reputation for its excellent service and trained staff.  The fitness area's within Superior Ink Condominium are second to none.  The state of the art fitness center includes an additional yoga and Pilates room. There is a children's playroom, screening room, residents lounge with catering facilities, private storage and bike room.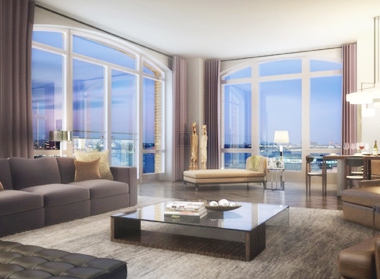 An amenity that is not to be missed is the building's own garage with direct access to the building's residences, valet parking is also available at the full service garage. With a parking space, you will have both the convenience of being able to drive directly into the building and also the additional privacy and security that brings.  Very few condominium buildings in the West Village and downtown Manhattan have such a feature.
Something worth noting is that the townhouse residences at Superior Ink also have the full access to all of the building's amenities.  So you have the rare combination of town house living but the added convenience of the benefits of a full service condominium.
Features of the condominium residences for sale at Superior Ink include 10-12 foot ceilings, thoughtfully designed layouts with the extremely high level of finishes that you would expect in such a building. The residences were designed to take advantage of the West Village location.  Views of the Hudson River from the energy efficient floor to ceiling windows.
After the building sold out quickly, there have not been too many resales at Superior Ink Condominiums, a sign that once you own there you never want to give it up.  However when apartments do come on the market they typically sell very quickly.  Here is a breakdown of typical pricing for Condos for Sale at Superior Ink Condominium:
Studio Loft's for Sale at 400 West 12th Street: Range in Price around $1,800,000
One Bedroom's for Sale at Superior Ink: Range in Price around $3,000,000
Two Bedroom's for Sale at Superior Ink Condominium: Range in Price from $4,000,000 to upwards of $10,000,000+
Three Bedroom's for Sale at Superior Ink: Range in Price from $5,000,000 to upwards of $15,000,000
Four Bedroom and Larger Condos for Sale at Superior Ink: Price upon request
If you are interested about knowing what is currently for sale at Superior Ink Condominium, contact us today at (917) 837-8869.
Or if you would like to request an appointment to see the availability at Superior Ink, call us at (917) 837-8869