We are introducing Park Avenue condominiums, this is a Part 2 of 3, Park Avenue Condos located in Midtown (32nd Street to 59th Street).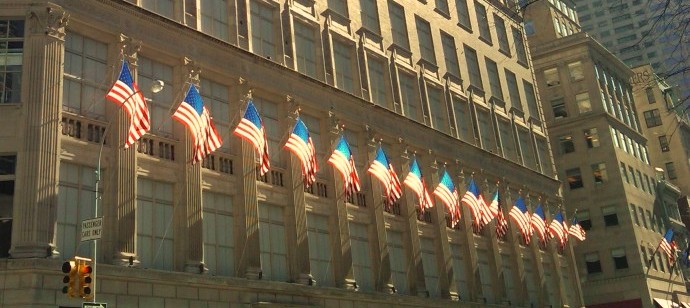 The Midtown Area of Park Avenue Condominiums is focused on just a few buildings as this stretch of Park Avenue is almost entirely made up of office and commercial real estate.  The condominium buildings that are located along the stretch of Park Avenue are located in what would be considered the Murray Hill section, very close to Grand Central Station.  These buildings have a very convenient location near the Midtown business district along with ease of transportation.
The Two (2) Park Avenue condominium buildings in the Midtown area are 80 Park Avenue and 45 Park Avenue. There is also a planned new construction condominium building at the site of the old Drake Hotel, located at 56th and Park Avenue.
80 Park Avenue is located at the southwest corner of 39th Street and Park Avenue. It is one of the more distinguished post-war Park Avenue condominium buildings in the Murray Hill neighborhood.  Originally built in the 1950's and converted into condominiums in the early 1980's, this 20 story, 220+ unit building has become a mainstay for anybody looking for a condominium apartment along Park Avenue in the Midtown area.
80 Park Avenue is a full time doorman building, some of the features include a roof deck, multiple elevators, garage, on site laundry facilities, and additional storage. A unique feature that has made 80 Park Avenue very attractive is the way that the facade of the building was set back in multiple steps, creating combination views of the Park Avenue and Midtown Manhattan skyline for many of the residents in the building. Located at 39th Street, you are within walking distance to Grand Central Station, shopping along Fifth Avenue, and close to lots of transportation options.
At 80 Park Avenue, studio condominiums will start in the $500,000 range. One Bedrooms will range in price from $800,000-$950,000.  And Two Bedrooms are typically priced around $1,350,000-$1,700,000.
Another very sought after Park Avenue condominium in the Midtown area is 45 Park Avenue.  45 Park Avenue is a new condominium building, a very rare type of condominium building anywhere along Park Avenue.
45 Park Avenue is a 21 story newly constructed building as of 2006.  Originally a hotel, it was purchased and a brand new condominium building was built in it's place. Costas Kondylis was the architect for 45 Park Avenue Condominium. You will be greeted by a full time doorman and concierge in a 2 story lobby.
Apartment features include 9 foot to 10 foot tall ceilings, 9 foot tall windows, hardwood floors, washer/dryers, and luxury appointed bathrooms and kitchens.The building also has a fitness room/health club, a garage and residents' lounge with accompanying outdoor terrace.
One Bedrooms at 45 Park Avenue are priced from $1,200,000-$1,650,000.
Two Bedrooms at 45 Park Avenue Condominiums are priced from $2,350,000-$2,400,000.
The development site at 56th and Park Avenue, where the Drake Hotel was located at, is considered one of the most desirable development sites in Manhattan.  Right now there are plans for a mainly residential tower, supposedly 70 stories tall to be designed by Rafael Vinoly.  This site is still in development but if and when it comes to completion will be extremely desirable Park Avenue Condominium real estate.
Call us (917)837-8869 today to find your perfect Park Avenue Condos. We sell Manhattan New York condos in many other fantastic neighborhoods and we are very well versed in different condo buildings. If you are looking to buy a condo for yourself as second home, for your children, or for investment, we have many years of experiences in finding the right condo for each person's needs. Call us today, so we can discuss in detail of how to achieve your goals, (917)837-8869.
Other Helpful Manhattan New York Condo Posts: