Once a part of Little Italy, in the mid-1990's the neighborhood was rebranded and the catchy name that stuck was Nolita, following the naming trend of its neighbors Soho(SOuth of HOuston Street), and Tribeca, (TRIangle BElow CAnal Street). Nolita, an abbreviation for 'NOrth of Little ITAly, is a relatively new neighborhood.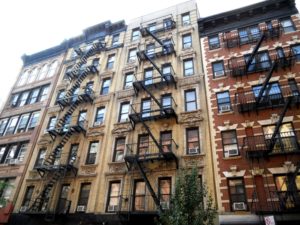 Nolita, in the 1990's experienced a large influx of young urban professionals escaping the high rents of SoHo. This, in turn, inspired the blossoming of fancy boutiques and establishments along it's quaint cobblestone streets. With a new energy in the neighborhood, distinct from the old charm of Little Italy, NoLita was born. Currently considered an extremely fancy and expensive neighborhood, NoLita is especially desired for its convenient access to the surrounding neighborhoods of NoHo, Lower East Side, and SoHo.
NoLita is south of NoHo, bounded on the north by Houston Street, on the east by the Bowery, on the south roughly by Broome Street, and on the west roughly by Lafayette Street.
Nolita apartments for sale are dominated by condominiums with a few co-ops mixed in.
The Nolita real estate market is often seen as an offshoot of its neighbor Soho, but is still a product of its more relaxed roots.  New Construction buildings have entered the market place with varying reflections of the neighborhood character.
Pricing for Nolita apartments for sale tends to fluctuate closer to Soho and Noho than it does the Lower East Side, but ultimately the variations depend on building quality, building amenities, exposure and renovations.
Some of Nolita's greatest appeal is that it has relatively everything you would be looking for in the downtown Manhattan experience, great boutique shopping, close proximity to Soho, eclectic mix of restaurants, cafes and entertainment.
We are very experienced & active Manhattan New York Real Estate agents, we have helped many buyers and sellers in different neighborhoods of Manhattan New York not just in NoLiTa New York. Please contact us at (917)837-8869 to find your perfect Manhattan New York apartment.
You can contact us today if you are looking to purchase a condo in NYC, or thinking about investing in this vibrant big city.
Other Exciting Manhattan New York Neighborhoods:
Please contact us at (917)837-8869 to find your perfect Manhattan New York apartment.
Other Helpful Manhattan New York Condo Posts: