Are you looking for a Meatpacking District Apartment for Sale and have a budget of around $500,000?
First, I always find it important to time stamp this type of analysis as pricing and inventory is always changing.
This analysis is ha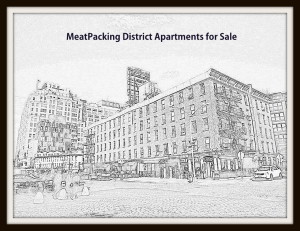 ppening in May of 2013, a very robust and active sales market in New York City.
The Meatpacking District Neighborhood in New York City has established itself as a premium location in downtown Manhattan, its combination of historic charm, high end boutique shopping, restaurants and entertainment options have made it one of the most energetic neighborhoods. Apartments for Sale in the Meatpacking District have become a very hot commodity, and one of the reasons is that the supply of Meatpacking District apartments is always very low.  There are just not that many condominiums that would be described as being  near the Meatpacking District.If you have a budget of $500,000 what kind of apartment is for sale in the Meatpacking District?
If you are looking for  Condominium Sales in the Meatpacking District than the answer is that there is No Availability right now.  There is nothing on the apartment for sale right now if you are looking for a condominium for sale for less than $500,000.
The entry level for a condominium in the Meatpacking District usually is going to start around $600,000-$650,000 for a studio, if and when something does come on the market. We've been tracking sales for the Meatpacking District and usually only one or two of this size of apartment comes available every year.

One Bedrooms will vary in pricing depending on the building, for a non-doorman elevator doorman condominium like the Village Pointe Condominium at 350 West 14th Street, one bedrooms are selling in the $800,000 range.  In a full time doorman new condominium building like you'd find at 345 West 14th Street or 450 West 17th Street- The Caledonia, expect the pricing to be around $1.5 million.
So as you can see, when looking for
Apartments for Sale in the Meatpacking District
, the type of building is everything.
The Meatpacking District Neighborhood will continue to have a very limited supply of apartments for sale, it's location between the West Village and West Chelsea Neighborhood has made it a prime location, so expect pricing to remain and exceed its current levels.
If you are looking for Meatpacking District Apartment for Sale, give us a call today and we can discuss what is currently on the market and what is the best way to purchase one of these apartments.
Call us today at (917) 837-8869 or email at Morgan.Evans(at) Elliman (dot) com

View Meatpacking District New York City Condos for Sale in a larger map