Koreatown, or commonly referred to as K-Town is a neighborhood in Manhattan generally agreed to be located between Fifth and Six and Avenues from 31st Street to 36th Street. Essentially the location is between the Empire State building and Herald's Square next to Macy's in the Midtown Manhattan area.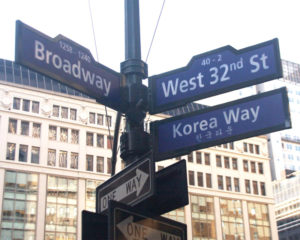 Koreatown is known more as a business district more so than a residential neighborhood.  However there are a number of very popular condominium buildings near the Koreatown neighborhood.  These condominium buildings include 325 Fifth Avenue, 400 Fifth Avenue, 425 Fifth Avenue, 445 Fifth Avenue, 100 West 39th Street, 350 West 42nd Street, just to name a few.
This neighborhood is anchored by what is known as "Korea Way" from 5th to 6th Avenue on 32nd Street. This is the heart of the Koreatown neighborhood.  What this street may lack in cumulative size it more than makes up for in concentration of stores and restaurants.  Known as a 24 hour destination for eating, shopping, relaxation and entertainment you will find Korea Way as a lively and spontaneous destination.  Whether you are looking for both traditional, regional or other combination varieties of Korean food you will find it on Korea Way.  If you are looking for salons, night clubs, bakeries, restaurants, shopping, internet cafes, hotel accommodation, you will find it all on this street.
The Koreatown neighborhood is a neighborhood of close proximity to many of the major tourist attractions in Manhattan, primarily the Empire State building along with the flagship Macy's store. This combination and general proximity to the Midtown business district and many residential condominiums along with transportation to any location in the city have made the area quite popular.  Very lively with distinct personality, Koreatown is a developing neighborhood as new hotel and condominium buildings continue to be built in the surrounding area.  Whether you are looking for Korean food anytime of day or for hotel and residential accommodations this neighborhood will deliver.
If you are looking for a condominium for sale in the area the anchor buildings along Fifth Avenue or closer to Times Square are very popular. These Fifth Avenue Condominiums for sale include 325 Fifth Avenue, the newly built 400 Fifth Avenue, 425 Fifth Avenue and 445 Fifth Avenue.  These buildings all possess condos for sale that have tremendous views of the Empire State building and Manhattan skyline from their higher floors.  The newer condominium buildings such as 400 Fifth Avenue and 325 Fifth Avenue have a combination of amenities and high end finishes that are highly desired. 
Contact us today (917)837-8869 if you are looking to purchase a Manhattan New York condo near Koreatown.
Read about other exciting Manhattan New York neighborhood by visiting links below:
Other Helpful Manhattan New York Condo Posts: