Greenwich Village is one of New York City's most desirable and historically significant neighborhoods.  Greenwich Village Townhouses are a direct reflection and product of the neighborhood's rich and historically significant status.  To learn about the townhouses you have to look back at the roots and history of the neighborhood.  With over 400 years of history behind it, many of the townhouses for sale in Greenwich Village are a reflection of a certain style of architecture from the period they were built.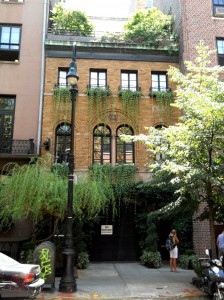 Greenwich Village townhouse–Take for example, the Greek Revival Townhouses that are found bordering the North Side of Washington Square Park, these date back to the 1830's.  Or a Federal Style Townhouse built in the 1840s, or a 25 foot  wide Italianate single family home.
Most of the townhouses in Greenwich Village bring with them a specific story of who they were built for and how they transferred hands throughout the years. They were built in a way with specific architectural characteristics that you will not find today.  Many townhouses have been meticulously renovated and brought back to their original splendor and enhanced with today's modern conveniences.  Air Conditioning, Elevators, Private Roof Top Decks, Screening Rooms, Security Features, were not an available feature back in the 19th Century.
Being of the desirable nature and the limited quantity of Greenwich Village Townhouses, the pricing for a townhouse has dramatically increased. Pricing starts around $5,000,000 USD for a mixed use or townhouse featuring multiple apartments within the property.  For a single family, fully renovated, asking prices can be upwards of $20,000,000.
Depending on what you are looking for, if you want a complete turn key with every possible convenience all wrapped up in a historically significant home with much of it's architectural elements restored, you will be at the higher end of the range.  If you would like to possibly live in a single apartment within a townhouse you will be at a far less price point.
If you are interested in buying or selling a Greenwich Village Townhouse, contact us today at (917) 837-8869.
For more reading about Greenwich Village Real Estate:
[gravityform id=1 name=ContactUs Page Buyers title=false description=false]
Other Helpful Manhattan New York Condo Posts: