Greenwich Village 1 Bedroom Condo Apartments for Sale Market Report
The 1 Bedroom Condo Market in Greenwich Village is one of most desirable yet has some of the lowest inventory levels of all neighborhoods in Manhattan. Greenwich Village 1 Bedroom Condos for Sale is highly desirable for both end users who will be looking to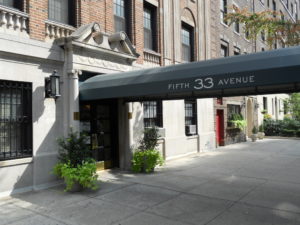 live in the apartments themselves and for investors as the area is surrounded by a number of college campuses including NYU, Parson's, and Cooper Union.  You have very little inventory along with a very high demand, this creates a real estate market where there are not that many choices and the prices reflect the market conditions.


The supply constraints in Greenwich Village are due to the fact that there are very few condominium buildings in the Greenwich Village real estate market, the vast majority of buildings are co-operative in structure. Most of Greenwich Village falls under the Greenwich Village Historic District, making new development condominiums more difficult to build.  There are are a few condominium developments planned, but they are still a couple years out from entering the market. Unlike other neighborhoods where new development condos created a lot more inventory, Greenwich Village is and will continue to be more immune to an oversupply of condos for sale.
Currently, as of the end of September 2011, I see approximately 12 (Twelve) One Bedroom Apartments for Sale in Greenwich Village.  This included both condo and cond-op properties.
A breakdown of the price range for 1 Bedroom Condos for sale in Greenwich Village is:
$650,000-$1,000,000: I see available 4 (Four) apartments in the sub-$1,000,000 price point right now in Greenwich Village. The $650,000 condo is for a Junior 1 Bedroom, not a true 1 bedroom condominium, and is found in 184 Thompson St Condominium, Jr 1 bedrooms will be found in this building occasionally. There is another 1 bedroom condo for sale in Greenwich Village also at 184 Thompson St asking $960,000.  The other two apartments are found in the Cond-op buildings in Greenwich Village, 63 East 9th St-The Randall House and 60 E 8th St-Georgetown Plaza. Georgetown Plaza is a very popular building as it allows for investment purchase and it consistently has large true 1 bedroom apartments for sale for less than $1,000,000.
Overall you will find very little supply for a 1 bedroom condo for sale in Greenwich Village.  There are a few buildings where these condos will be found and when something is priced consistent with the market it will sell very quickly, expect to see large turnouts at the open house and offers to come quickly.
$1,000,000-$1,500,000: This is the price range where the bulk of the 1 bedroom Greenwich Village Condos for Sale will be found. Right now I see 6 (Six) One Bedroom Condos for Sale in Greenwich Village available.  In this price point you will start to see pre-war condominiums come available.  The pre-war condominium market is a niche in the condominium market in Greenwich Village.  It is a segment of the market that has an even more limited availability including the Bing and Bing buildings, including 59 West 12th Street, 45 Christopher Street, 299 and 302 West 12th Street.  Some other notable pre-war condos including 28 E 10th St-The Devonshire House, 115 Fourth Ave-The Petersfield, 2 Cornelia Street at the crossroads of Greenwich and West Village and 25 Fifth Ave.
This segment of the market will find condos in full time doorman condos, typically ranging in size from 800-1100 sq ft, some in pre-war buildings, some in a renovated condition. For a true 1 bedroom in a well established condominium building you will probably find yourself in this price range.
$1,500,000+: This price point you will find the more exceptional properties, typically 1100 sq ft+, outdoor space, exceptional renovations, possible views, loft like spaces.  This segment of the 1 Bedroom condo for sale Greenwich Village market will afford you to see higher floor apartments, usually renovated, in very well established buildings.
Overall, the 1 bedroom condo for sale in Greenwich Village is a very in demand segment of the market.
If you are looking to buy in this neighborhood you have to understand the market conditions that exist and the best way to locate your apartment. Greenwich Village has a very rich history in New York City and is considered one of the premier Manhattan neighborhoods.  The downtown location along with proximity to universities, shopping, restaurants, and shopping, is arguably unmatched.
If you are interested in buying, selling or renting a One Bedroom Condo in the Greenwich Village Neighborhood contact us today, at (917) 837-8869 or email Morgan.Evans(@)elliman.com and we can discuss your specific need.
Here are some helpful Greenwich Village articles you may find it useful.

Other Helpful Manhattan New York Condo Posts: