Dorchester Towers is located at 155 West 68th Street New York, NY 10023. Dorchester Towers Condominium is located in the heart of the Lincoln Square area of the Upper West Side.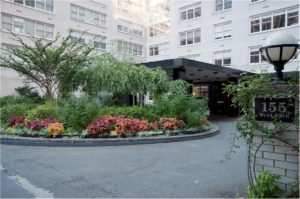 Dorchester Towers is one of the most desirable Lincoln Square Condominium buildings for a number of reasons:
Recently the building changed it's building pet policy. They now allow dogs in the building.  This change from the perspective of Real Estate sales now opens up the buyer pool to those who have pets.  The dog policy still has certain restrictions based on the breed and number of pets allowed in an apartment. A renter for an apartment in Dorchester Towers Condominium is also now allowed to have a dog in the apartment.  That is the building policy, but naturally it's every owner's discretion to decide if pets will be allowed.
Overall this change in policy will lead to a wider buyer pool as pet owners who once would dismiss the building will now come and see if they want to purchase or rent a condominium at Dorchester Towers.  This is an advantage to a current owner in the building who may be looking to rent or to sell in the future.
Another update for the building that there are plans to renovate the hallways and lobby area. The renovation is described as fairly extensive, there is a tentative plan for a children's playroom and meeting room to be constructed within the current layout of the generously sized lobby sitting area.  This is planned to occur sometime in late 2011 or early 2012 depending on a number of factors.
Updating the hallways is going to be a very aesthetically positive infrastructure for the building. As an active real estate agent, some buyers from time to time comment that a hallway renovation would be worthwhile.  A children's playroom and meeting room are definite advantages in a real estate perspective.  These added amenities will provide an added value proposition for incoming buyers, as many of the more modern condominium buildings in the neighborhood have these types of amenities.  The building will still not have any gym, fitness or health club area, but there are still a number of gyms in the near vicinity of the building including Reebok Sports Club, Equinox, New York Sports Club, just to name a few.


Overall, we think the renovation of the hallways and the lobby is going to be a major improvement for the building. Many post-war buildings that were built around the same time that Dorchester Towers NYC was in the mid 1960s are all being updated now to stay as competitive with some of the other more modern buildings in their respective neighborhoods.  The renovation was paid for through a capital assessment that is planned to end in August of 2012.
The combination of opening up the building to allowing dogs and the upcoming renovation of the hallways and lobby we can say will increase the desirability of the building to incoming buyers and create a larger value proposition to anybody interested in a Dorchester Towers Condominium apartment.
Dorchester Towers Sold Condominiums since June 1st, 2011:
Apartment 509, 1 Bedroom sold for $645,000
Apartment 1509, 1 Bedroom sold for $625,000
Apartment 1701, Junior 1 bed(alcove studio with converted wall for bedroom area) sold for $582,000
Apartment 1512, Junior 4(1 Bedroom with dining alcove in living room that could be converted to 2nd bedroom), sold for $860,000
Apartment 907, Alcove Studio, sold for $575,000
In Contract Apartments at Dorchester Towers:

Apartment 428, Junior 1 Bedroom apartment, last asking price was $725,000
Condos for Sale at Dorchester Towers as of October 24, 2011
Apartment 4-20, 1 Bedroom, asking $625,000
Apartment 18-15, 1 Bedroom, asking $799,000
Apartment 29-C, Junior 4(1 Bedroom with dining alcove in living room that could be converted to 2nd bedroom, 1.5 Bathroom, asking $1,175,000
We are Dorchester Towers condo (155 West 68th Street New York NY 10023) sales and rental specialists. If you are interested in finding more about this condo, call us today at (917) 837-8869, or if you are an owner that would like to receive a fair market estimate of your unit, call us (917)837-8869 and we can discuss in details.
Other Helpful Manhattan New York Condo Posts: