East Village Neighborhood
The East Village is a neighborhood in the downtown area of Manhattan.  It's location would be described as North of the Lower East Side, East of Greenwich Village and south of Gramercy Park and the Stuyvesant Neighborhood and it's eastern boundary is the East River.  Essentially it can be found north of Houston Street, East of 4th Avenue, and south of 14th Street.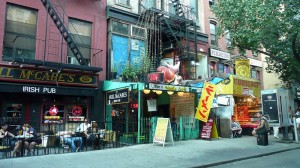 Originally the East Village was known to be a part of the Lower East Side, but it developed it started to be identified as it's own neighborhood in the 1960's as the birthplace for the counter culture movement.  With counter culture at the heart of the East Village's identity, a distinctive music and art scene was able to develop.  Known for it's diversity, welcoming nightlife and entertainment, the East Village is one of the most distinct Manhattan neighborhoods.
To fully understand the East Village, taking a look at the area's cultural, musical, and artistic history is the key.  Starting in the 1960s the area that was soon to be known as the East Village became the home of more artists, counter culture including the Beatniks, musicians and performers.  The term East Village started to appear in magazines and different publications giving the area it's unique identity.
In the past decade, the neighborhood has seen a large gentrification movement of new condominium development, restaurants, and shopping move into the area.  The East Village is on the same path that other New York City neighborhoods were on just decades before it, including, Soho, Tribeca, and the West Village.
The residential real estate in the East Village is going to be a reflection of both it's past, present and future.  You will have a combination of the original tenemental style walk-up buildings that make up most of the apartments for sale and for rent.  These mostly pre-war buildings offer a style of architecture and way of life that is going to be distinct to the neighborhood.  Then mixed in you will the new construction condominium buildings built in the past 10 years.  These are a reflection of where the neighborhood and much of Manhattan has been going.  These condominiums offer a luxury lifestyle that is a somewhat juxtaposition from where the East Village came from.
What makes the East Village desirable is the unique characteristics of the neighborhood, the restaurants, shopping, nightlife, the way of life found there.  Whether you want to live in a new construction condominium or in a pre-war building you can find it in the East Village.