995 Fifth Avenue, New York NY 10028-The Stanhope Hotel

995 Fifth Avenue Condop located across from Central Park and the Metropolitan Museum of Art.  Originally built in 1926, as the Stanhope Hotel, and designed by famous pre-war architect Rosario Candela.  Rosario Candela designed some of the most prestigious buildings in the Upper East Side most notably 740 Park Avenue, 1040 Fifth Avenue, and 834 Fifth Avenue.  995 Fifth located at 81st and Fifth Avenue is a boutique building, made up of approximately 26 residences and sits positioned as one of the most prestigious and desirable condops near and next to Central Park located on Fifth Avenue.

(photo from: http://www.nytimes.com/2008/09/14/realestate/14deal1.html)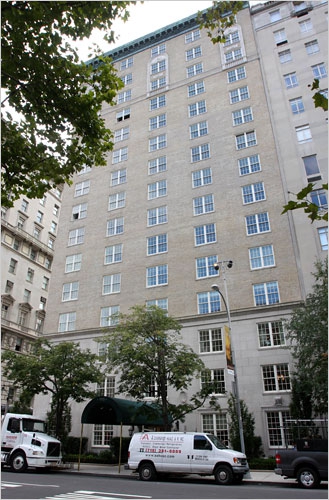 Originally designed as a hotel, the Stanhope Hotel was one of the top hotels in the Upper East Side right beside the Carlyle Hotel in desirability.  A historically significant building, 995 Fifth Avenue, sits across on the south end of the Metropolitan Museum, with direct Central Park and Museum views.  This condop conversion started in 2007, the pre-war building was meticulously renovated keeping it's pre-war architectural details, but renovated with a keen sense of modern conveniences and luxury buyer's in mind.
One of the most notable features of the residences at 995 Fifth Avenue is the size of the apartments found in the building.  Most residences at 995 Fifth Avenue, this condop across from Central Park, are in excess of 4,000 square feet.  Upgraded infrastructures include individually controlled 4 Pipe HVAC systems, state of the art building wiring for all audio/visual needs.  995 Fifth Avenue has a 2500 square foot La Palestra fitness and spa, 24 hour doorman, concierge, resident manager, and additional storage.

Apartment features take on the pre-war aesthetic characteristics of the building.  Spacious and comfortable layouts, gracious apartment entrances, service entrances, Small Bone designed eat in kitchens, libraries, formal dining rooms, and all within the design elements of a Rosario Candela building.  995 Fifth Avenue continues to be one of the most in demand pre war condop buildings along Fifth Avenue in the Upper East Side.  995 Fifth Avenue is a condop, meaning that it is a co-op structure but with condo by-laws, creating more flexibility with purchase.  It also is on a landlease, which has an estimated 150 years left on it.  Sitting right along Fifth Avenue, many of the apartments have direct Central Park Views.

Typical Price Range for 995 Fifth Avenue Apartment for Sale:
Three Bedrooms:  $6,500,000+
Four Bedroom, Five Bedroom and Larger: $12,000,000 – $22,500,000
Contact us if you would like to schedule an appointment or want specific information regarding current availability of condos for sale at 995 Fifth Avenue.
For more information about 995 Fifth Avenue or other Condos for Sale near and along Central Park:
If you are interested in condos for Sale 995 Fifth Ave call us directly at (917)837-8869 or email us at EHSU(a)elliman.com.
Other Helpful Manhattan New York Condo Posts: