45 West 67th Street located at the corner of the historic West 67th Street in the Upper West at 67th and Columbus Avenue. West 67th Street Manhattan NY Condos is a desired property type and 45 West 67th Street is one of the more established condominium buildings in the Lincoln Square area.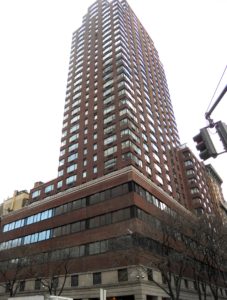 Originally built in 1984 as a 33 story condominium building this has always been a popular condominium location.  Just a block from Central Park, across the street from the ABC studios, a few blocks north east from the arts of the Lincoln Center complex, 45 West 67th Street has become one of the ideal Upper West Side Condos buildings.
The corner building has a large retail base with a tower setback with many apartments having corner exposures either overlooking Central Park or the Manhattan city skyline including the Lincoln Center and Hudson River.  A variety of apartments including alcove studios, One to Four Bedroom Apartments can be found in the building.  There are even duplex apartments, and penthouse apartments with large terraces including solarium's.  These type of condos are hard to find with such large outdoor spaces.  West 67th Street is a historic Central Park block and residents will have a full time doorman, resident garden, laundry in the building and a pet friendly atmosphere.
Pricing for condos for sale at 45 West 67th Street are varied: Alcove Studio's start in the $600,000 range, One Bedroom's start in the $850,000+ range, Two and Three Bedroom's depending on size and exposure start in the $1,350,000 and go up from there. The larger apartments including duplex and penthouse prices vary.  For a complete list of condos for sale at 45 West 67th Street contact us at (917) 837 8869.
Other West 67th Street Manhattan NY condos including on this street are 101 West 67th Street and 111 West 67th Street along with the Grand Millennium at 1965 Broadway, commonly known as the Millennium Buildings.
Manhattan New York condo frequent asked questions:
Other Helpful Manhattan New York Condo Posts: