New York City First time Condo Buyer and Investor Part 3 New Construction Condos – What I don't Know
Buying as an Investment
How do I figure out if this is a good deal or not in 2017/2018?
New Construction Condominiums are definitely some of the most popular projects in all of New York City Real Estate, whether it's the record breaking height of a new skyscraper, the innovative architecture from world renowned architects, or one of the new mega projects transforming a neighborhood, new construction condominiums are at the forefront of most Real Estate conversations.  
Did you know that as of end of 2017, that approximately 25% of condo sales are made up of New Development, so despite the headline generating buzz it creates, new construction condos are just a fraction of the overall condo market.
What's important to understand is that the New Construction Condo market shares a very important similarity to all other condominiums in New York City, which is that it is is made up of specific segments with their own unique characteristics.  
You have the top end of the luxury segment of new construction market, that gets all of the headlines, so people think that all new construction is mirroring those headlines.
What's important to understand with new construction is that new construction buildings whether they are in Park Slope Brooklyn, along Billionaire's Row across 57th Street, the Financial District or any other neighborhood, has their own market dynamics at play and you need to understand what they are before purchasing.  
When you are buying New Construction Condominiums there are a couple of definite Must knows and especially if you are an investor
Closing Costs for New Construction Condos – Often the sponsor will try to have the buyer pay the Transfer Taxes which are approximately 1.825% of the Purchase Price

Paying for Sponsor Attorney Fees

Paying for a portion of the Resident Manager (Superintendent) Apartment, varies but can be significant

Capital Contribution – Paying Upfront Common Charge to Build Reserves for the Building

Mortgages- Will Often be Non-Mortgage Contingent
Please note, the above bullet points are not hard rules, but common practices and are definitely market dependent.  Whether you are reading this now in May of 2017, or some time in the future, the new construction marketplace will have changed.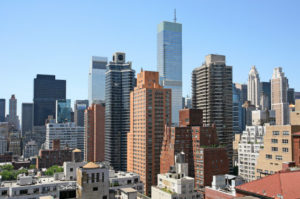 So What are some things that you probably don't know about New Construction Condominiums: If you are closing in the first wave or batch of apartments, that they may not be  finished with the amenity spaces or all the floors when your apartment closes, so you could be living through construction or not have full access to the amenities .
Something that we saw and continue to see in the current phase of New Construction Buildings that should be especially important to an investor:
1-Some buildings are heavily marketed to overseas buyers or have large percentages of the building become investment rentals.
2-We have seen some buildings where 50-60% of the apartments instantly turn into rentals.  So you have large numbers of apartments hitting the market for rental all at the same time, all targeting the same tenants.  You have to put yourself in the tenants point of view, they are going to set up appointments to see all of the available inventory which is going to look the same because the building is brand new and they will decide on who will give them the best price.  
Pro Tip: If you are buying as an investment, ask about the mix of apartments, are their more 1 beds or 2 beds or 3 beds, so you can get an idea of the potential competition you may have when you close.  If you are buying in a building that is a majority of a certain type of apartment, you know that its likely that type of apartment will have the most competition.  
As an investor, if you are in the first wave of closings and the building construction and amenities isn't finished yet, that will hurt your marketability to find a tenant.  Tenants want to have access to everything and often will ask for a better price to compensate the disruption.  
New Construction Contracts are routinely very straightforward – often there is limited room to negotiate, whether you accept the terms or not having an experienced attorney that is familiar with new construction condominium contracts is very important to understand what is the common practice what is not.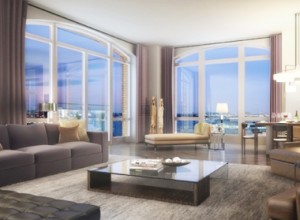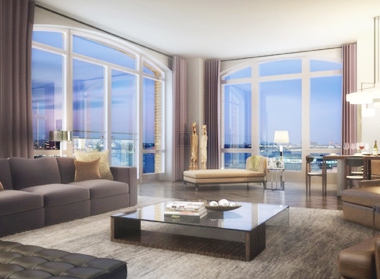 Usually the initial contract deposit at signing is 10% and often a second deposit is required, often another 5-10%.  The timing of the 2nd deposit varies from project to project.
When you close on the apartment, you will often get about a 30 day lead time, so you will want to have the rest of your funds in place, whether its a cash purchase or a mortgage.
If you are obtaining financing, most new condominium projects will require a non-contingent mortgage, so you will have to be confident that you can obtain that mortgage before you sign the contracts.  

So you have your closing date scheduled, you are close to the finish line, it's time for the walk-through of your new apartment.  So what exactly is a walk through? The walk through usually happens the day of or day before of the actual closing.  You will get to go through the apartment with the developers representatives and they will show you how everything works in the apartment and if any touch up or fix up needed, then there will be a "punch-list" which will be completed by the developer's team in a reasonable time frame.

We've been selling new construction condominiums for over 15 years now, since they become really popular in the mid-2000s.  Each experience and building is different but we wanted to lay out for you some of the pitfalls, questions, and scenarios that many of our buyers have faced.  
We believe an educated buyer makes a more confident owner, which is what we are always aiming for.  We've found that people assume that because they are buying new construction there is nothing to worry about, which we understand, although that is not always the case. We are in the market place everyday and see the different changes in each new construction, when we work with buyers, we ensure the buyer is well aware of everything we wrote about and any new addition of changes or must know that take place in the current market place.
Call us (917)837-8869 or email us and we can help you to buy the new construction you want with confidence. 
This is a five part series blog posts. You can read about by clicking on the links below:
Buying as an Investment
How do I figure out if this is a good deal or not in 2017?