20 West 64th Street also known as ONE LINCOLN Plaza is one of the condo buildings in the Lincoln Square neighborhood. Located directly across from Lincoln Center, 20 West 64th Street is a well established large full time doorman condominium building.
Originally built in 1971 by the New York based Milstein real estate family, One Lincoln Plaza was one of the first large newly built residential buildings in the Lincoln Square area at the time. One Lincoln Plaza, is made up of over 650 residences and is over 40 stories tall.  The building itself has a tremendous frontage on Broadway and sits in the block between Central Park West and Broadway.  This location combined with the size and height of over 40 stories gives many of the apartments at One Lincoln Plaza tremendous views of both Central Park, the Manhattan city skyline, and the Hudson River.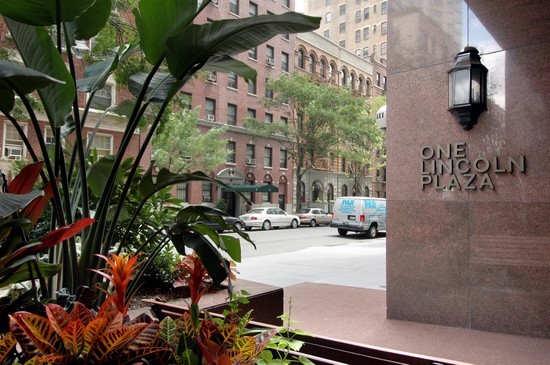 20 West 64th Street has commercial space facing Broadway including a number of restaurants and service oriented businesses.  The base of the building is office space with the V-shaped tower and entrance to the lobby mid-block on 64th Street between Broadway and Central Park West.
The lobby at 20 West 64th Street was renovated with a hotel-like feel, with doorman, concierge and multiple elevators to service the towers. The 44th Floor of One Lincoln Plaza is where you will find the building's private fitness center, pool and roof deck.  The amenity package is one of the nicest for the Lincoln Square neighborhood when you combine the tremendous views from the 44th floor with the work out facilities.  The amenity package at One Lincoln Plaza is a major attribute for the building.
Pricing at 20 West 64th Street, One Lincoln Plaza for Condominium Residences for Sale:
So far in 2011: (4) One Bedroom Condominium Residences have sold at One Lincoln Plaza in a range of $675,000-$1,375,000.
Obviously that is a very wide range and that is because the 1 Bedroom residences in the building range in size dramatically and some have 1.5 Bathrooms and can be converted to a small two bedroom apartment.  Because the building is tall and some apartments have views of Central Park, there is going to be a wide variation in pricing.
One (1) Three Bedroom Two Bathroom residence sold in 2011 for $2,850,000. It was nicely renovated had open views from the 32nd Floor and was approximately 1750 sq ft.
Other great Upper West Side condo buildings that you may want to look into as well:
Call us today at (917)837-8869 or complete the form below for the most updated availability or a home in Upper West Side Manhattan New York.
[gravityform id=1 name=ContactUs Page Buyers title=false description=false]

Other Helpful Manhattan New York Condo Posts: