One of the Millennium Buildings, the Grand Millennium at 1965 Broadway is located at one of the premiere Lincoln Center locations.  Between 66th and 67th on Broadway, the Grand Millennium looks over the prime Upper West Side.  The Grand Millennium at 1965 Broadway is one of the most coveted Lincoln Square Condos buildings.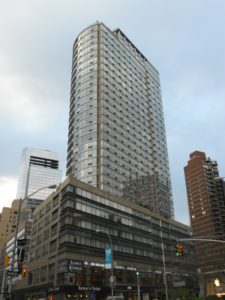 This 32 story 200 unit Upper West Side Condo building was originally built in 1996 as one the Millennium Buildings. The other two are 111 West 67th St and 101 West 67th Street.  1965 Broadway is a full service condominium with 24/7 doorman and concierge services. Maid Service, laundry in the building, and a pet friendly building will be just a few of the amenities that you will be able to experience living in this Lincoln Center Condos building.
The Grand Millenium was designed with a slightly curved south facing glass facade.  It has a more modern aesthetic than most of the post war condominium buildings in the area.  Most apartments have expansive views of the Upper West Side, Central Park and river views can be found in the higher floors.  Balconies and fireplaces can be found in some of the more desirable apartments.
The mix of apartments in the building ranges from One Bedroom, two bedroom, three and four bedroom apartments. One Bedrooms typically are priced starting in the $800,000 range and go up.  For more information regarding what is currently for sale at the Grand Millenium, 1965 Broadway please contact us today.
If you are looking for one of the premiere Lincoln Center Condo buildings the Grand Millenium should be on your short list of apartments to see.
If you are intersted in find a condo for sale in1965 Broadway-the Grand Millenium Manhattan NY Condos contact us today at (917)837 8869. Or Email us here: http://manhattannycondosforsale.com/contact/
Other wonderful Lincoln Center area condominiums:
Millennium Tower-101 West 67th Street New York NY 10023
The Coronado-155 West 70th Street New York NY 10023

Other Helpful Manhattan New York Condo Posts: